Recently the 'Osse Sleutel' did a newspaper article on me and here is the result:
Anton Wintjes from Oss owns hundreds of models.
Passion for old radio's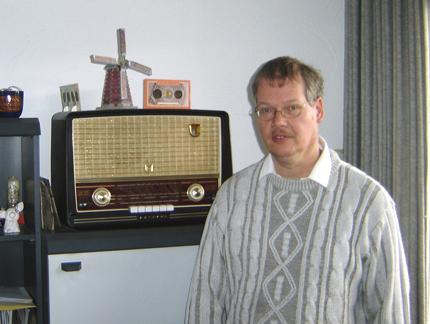 Oss - When he was 12, in 1966, his parents gave him a do-it-yourself kit to construct your own radio. This 'Pionier 2' from Philips is currently displayed in the window of his audio- and TV-repair shop in the 'Leeuwerikstraat' in Oss, that has all the makings of a museum: hundreds of radio's and TVs from days gone by decorate the walls. 'Everything is functioning' Wintjes proudly states.

(By Jos Delisse)
The entire development from cristal receivers to radio's and TVs with tubes and subsequently from transistors to chips is on display at Wintjes' shop. He shows a few crown pieces: "This, for instance, is a curious model from 1931, know as the 'little chapel' due to its spiry shaped casing. This large one from 1935 is called the 'cathedral'. And that is the very first TV by Philips from 1951." Anton Wintjes has primarily focused on Philips, although the odd foreigner can be found in his collection.

Radio Luxemburg
Wintjes is not only a dedicated collector and repair technician, he also likes to listen, preferably to Belgian stations. With a melancholy heart he remembers the days when Radio Luxemburg or Radio 208 was still on the air. "I still hear their regular tune playing in my head: '208, hard and soft, day and night!' Every sunday afternoon tuned in on Peter Koelewijn, who was presenting the Top 20, fantastic."
Digital
For a while now we have digital radio via DAB (Digital Audio Broadcasting). Wintjes boasts one DAB-radio in his shop. "If I was to rebuild this radio with radio tubes the result would not fit in this shop. Everything has become smaller." Also digital TV via an aerial (DVB) is making its entrance. " In Oss it is as of yet not available, officially, but I've got it already", Wintjes chuckles. "A matter of a decent aerial...".
Zie ook: www.radiocollectie.nl.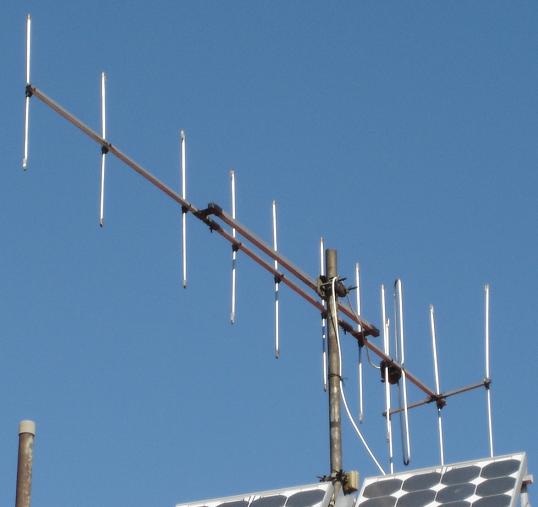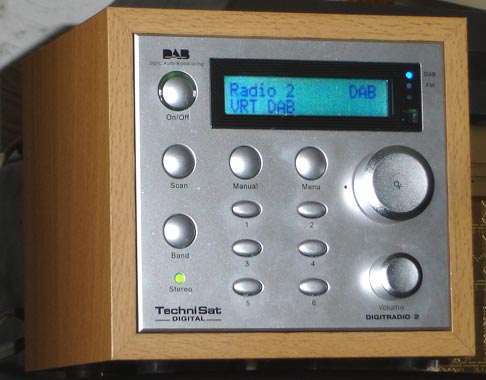 The latest radio technique. Listening to digital radio through the air. The broadcasting frequency is approximately 230 MHz (channel 12). Brand and type of radio: Technisat Radio Digit 2. FM also remains available. The aerial used is an ordinary aerial formerly used for receiving TV, but these days suitable for DAB reception.